PLEASE NOTE THIS DEPARTURE IS NO LONGER RUNNING please contact us for alternate Antarctic Itineraries.
---
Join us on this exclusive, 28 day expedition to Commonwealth Bay, a remote location rarely visited by tourists, if conditions permit we may even visit Mawson's Huts.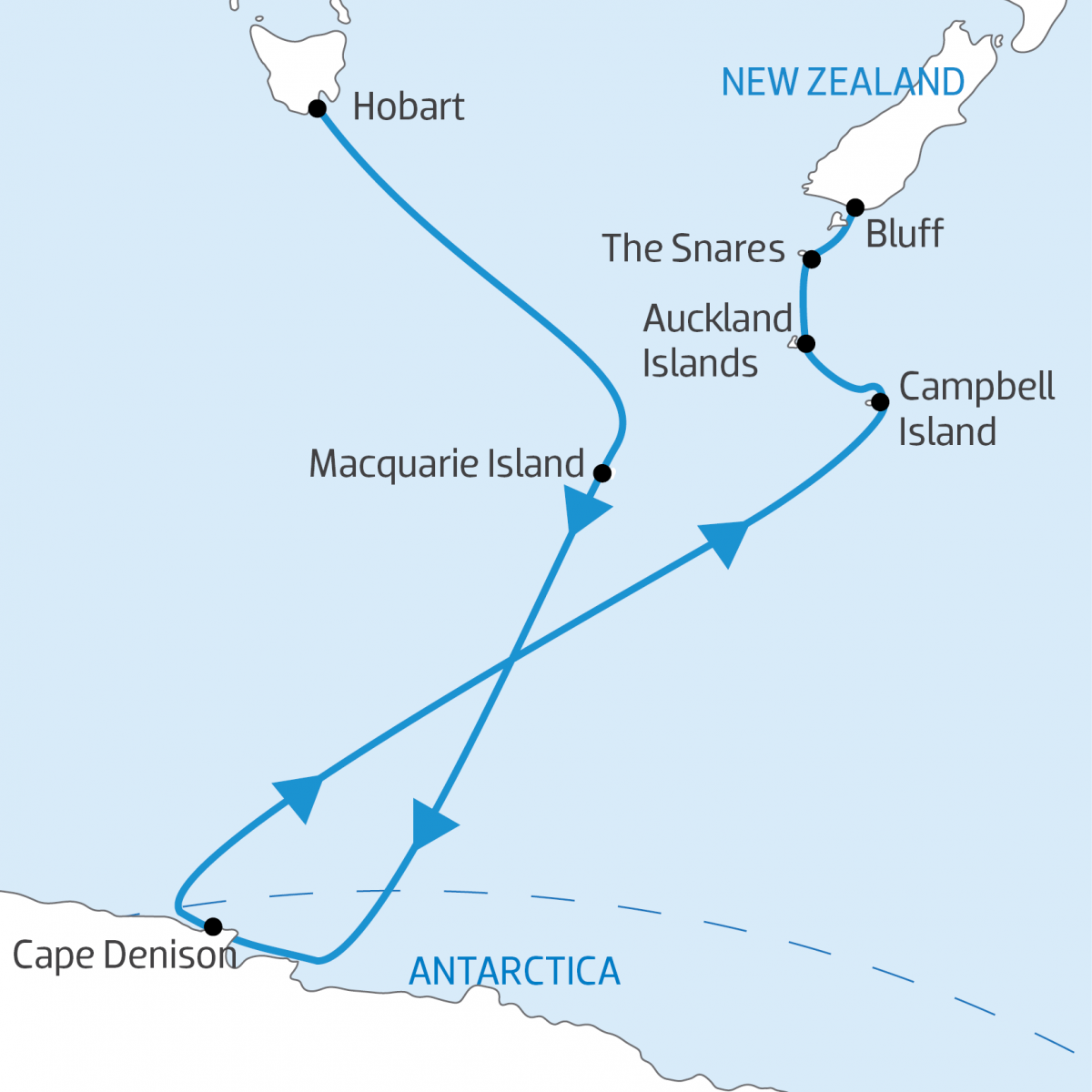 A true Australian hero, Douglas Mawson's initial interest in Antarctica was scientific. Whilst others were racing for polar records, Mawson was studying Antarctica and leading the charge on claiming a large chunk of the continent for Australia. On his quest Mawson along with Xavier Mertz and Belgrave Ninnis set out to explore and study east of the Mawson's Huts. On what began as a journey of discovery and science ended in Mertz and Ninnis perishing and Mawson surviving extreme conditions against all odds, with next to no food or supplies in the bitter cold of Antarctica.

Chimu Adventures in collaboration with the Mawsons Huts Foundation have access to berths on the only tourist cruise departing Hobart, Australia, in the 2018/19 season, which is scheduled to visit the historic Commonwealth Bay, where the Mawson story truly began. This exciting adventure cruise will visit Macquarie Island, Campbell Island, the Auckland Islands, the rugged East Antarctic coast, the impressive Commonwealth Bay and if we are really lucky, Mawson's Huts, before making its way back to Bluff, New Zealand. This is truly a cruise for those that love adventure travel and a must tick bucket list item for avid travellers.

Mawson's Huts Foundation
The Mawson's Huts Foundation was established in 1997 with the support of the Federal Government expressly to conserve Mawson's Huts at Cape Denison. Since then it has funded and organized 10 major expeditions to the historic site: it's Australia's gift to Antarctic Heritage.

'Sir Douglas Mawson is arguably the grandfather of Antarctic science. The Australian Antarctic Expedition 1911 - 1914 is notable for its achievements and sadly its tragedies.'
Travel with us on an extraordinary journey and explore this fascinating part of Antarctica, full of breath-taking nature and exciting history.