THIS SPECIAL HAS EXPIRED,
CLICK HERE
TO SEE CURRENT DEALS
A trip to South America would not be complete without a Galapagos Islands tour. Cruise over the deep blue sea where you'll find everything from volcanic peaks to awe-inspiring wildlife, coral reef-lined bays, mangrove forests and white beaches. Sail between the islands and view the abundance of exotic wildlife found nowhere else in the world.
Choose from a luxury 5 day or 6 day Sea Star Journey from this well known Galapagos Journey Fleet, the perfect combination of adventure, comfort and excellence! Book now and receive up to 35% off on 2016 departures*.
The sale  is subject to availability. So check out the itineraries below, then book as soon as possible to avoid disappointment. As always, we're just a phone call or email away for in-depth, expert advice on your adventure of a lifetime.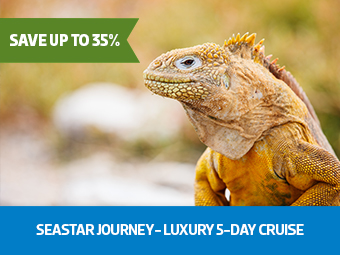 Explore the Galapagos on this 5 day cruise and marvel at the spectacular landscapes, white and sandy beaches and the overflow of exotic wildlife. 
Departure dates on Sale: 11-Sep-2016 and 25-Sep-2016.
WAS AU$5,999
NOW AU$3,899*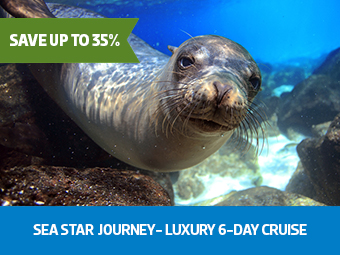 Set foot on board of this 6-day cruise in the Galapagos and sail between the islands while exploring on eof the world's foremost destinations for wildlife viewing. 
Departure dates on Sale: 01-Sep-2016, 15-Sep-2016 and 29-Sep-2016. 
WAS AU$7,500

Valid as at 21 June 2016, Special subject to availability of the ships. Cannot be combined with any other offer.